Green Minestrone Soup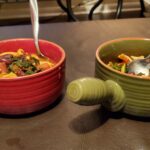 Aromatic veggie stew is a greener, more vibrant version of the original classic.
3 oz pasta, cooked
15.5 oz kidney beans, drained
1 pint cherry tomatoes, stems removed
6 oz tomato paste
2 cups filtered water
2 tsp sea salt
pepper, to taste
PREP: Combine in bowl
2 tbsp apple cider vinegar
1/2 lemon, juiced
PREP: Coarsely Chop
2 stalks celery, chopped into half moons
4 multicolored carrots, bite sized pieces
1 leaf of purple kale, coarsely chopped
1 leaf of swiss chard, coarsely chopped
2 tbsp fresh dill
2 tbsp fresh parsley
2 tsp fresh oregano
For Garnish
1 bunch broccoli sprouts (optional)
edible flowers (optional)
2 sprigs fresh dill (optional)
Cook and drain the pasta.

Add tomato paste and water into a high speed blender until smooth, set aside.

Heat a pan over high heat and add the tomatoes, cook until blackened. Reduce heat to medium.

Add celery to pan and stir for 3 minutes, until it's color brightens

Add the carrots and saute for 3 minutes

Add tomato paste/water, reduce to low and simmer for 5 minutes.

Add kidney beans and pasta. Stir.

Add dill, parsley, and oregano. Stir.

Gently fold in kale and swiss chard. Fold until they wilt.

Add salt, pepper, vinegar and lemon juice. Adjust seasonings to taste.

Serve in bowl. Garnish with optional toppings.