Small Town, Italy
Well, I'm back on the road as I make my way over to the West Coast of Italy. I'll have a down day in Sorrento before hopping on a plane back to the real world.
This whole experience has been amazing. It's the perfect balance of solo travel and spending time with family. What I am realizing is that I need more of this. I even have more family out here that I didn't get to visit this time. So, next Spring, I'm coming back for a quick trip. Sorry Kip, you'll have to stay home.
I'm glad I chose to ride on this visit. This has been a very challenging first self-supported tour. The miles are not extreme and the elevation isn't too bad but the heat and humidity have been exhausting. What I'll improve on for next time is the amount of crap I bring along. My bags are sooooo heavy!
Yesterday was a great day of riding. 90 miles made for a long day, but most of it was along the flat coast with some beautiful bike parts.
I dipped my tire in the Adriatic Sea before cutting West towards the opposite side of the country.
I spent last night in a Bed and Breakfast in the town of Caramenico Terme. I learned when you tell a small town hotel owner that you will arrive at 5pm, don't expect them to be there at 4pm.
You might be wondering why Kip is laying down. Well, the road is so steep that I didn't want to lean him up against the wall. But then, down this tiny alley, a car started driving up, so I had to remove the bags and get him propped up. I had about an hour to kill, so I ate my Italian Hot Dog that I picked up earlier that day.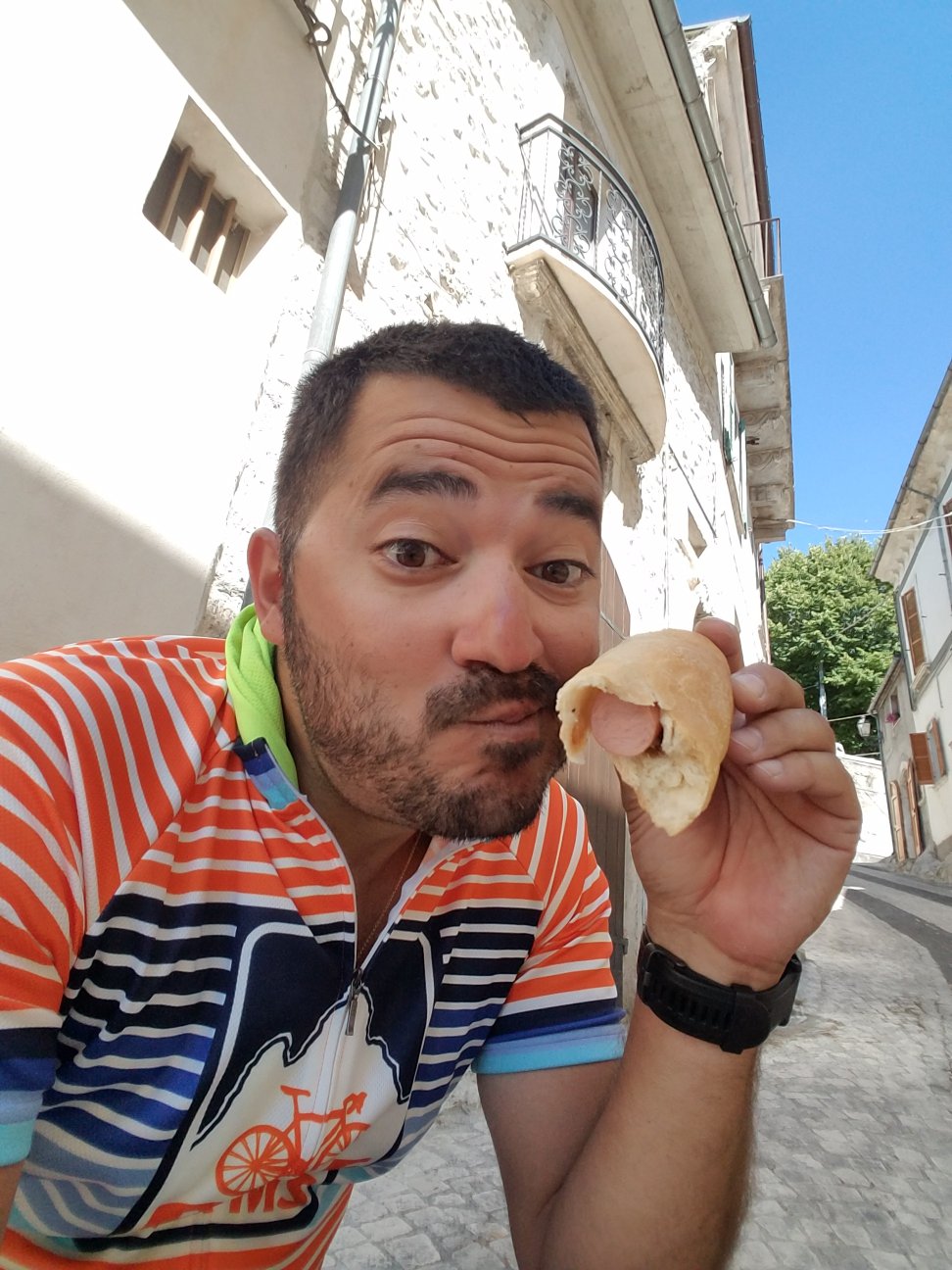 Everything in town is closed during the day and re-opens at night, so my ritual has become: arrive, nap until 8pm, find food, sleep. I found a great luxurious bed linen company that worked today, so i bought some and now sleep is great again.
Tonight that changed. I am in the TINY town of Pizzone, staying in an AirBnb. It's actually a garage that has been converted into a nice little apartment. The town has one bar, so my plan was to rest and then go get food at 8. Well, the bar is more like a cafe/gelateria/convenience store. When I asked about a panini, she tried to sell me a loaf of bread. So, I had a gelato while making my decision. The final choice: 2 peroni beers, salami and proscuitto and a bag of chips. Enough food to get me through the night so that I can book it to the nearest town in the morning.
Today was a challenging day of riding, but it's literally all downhill from here. Only 50 miles but 5000 feet of be elevation. It was CRAAAAAAZY! I have two more 50 mile days before I arrive in Sorrento.
I love spending my days on a bike. I love the sights and the smells and the beautiful vistas around every corner. I love using broken Italian to try and have a conversation with locals. I love the fact that I'm traveling though cities that don't see too many Americans. I love that my bike Kip is an much as an outsider to this area as I am. I've enjoyed sitting outside a bar enjoying snacks and watching the locals walk past him and examine his stickers and foreign look. I'm grateful for everything that allows me to have these experiences and can't wait to start planning my next adventure. But, I still have a few days left!